Mary Frances Dunham and Bike Advocacy
---
---
BIKE ACTIVISM - NEW YORK CITY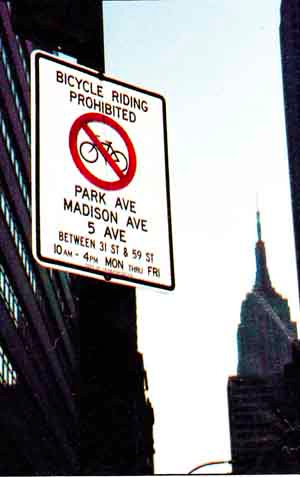 Fifth, Park and Madison
By Mary Frances Dunham
Printed by  Bicycle USA, July/August 1989 published by the League of American Wheelmen
"In July 1987, Mayor Ed Koch moved to prohibit bicycle-riding on three major Manhattan avenues during weekdays. Cyclists responded with an uproarious campaign to win back public opinion and overturn the Midtown Bike Ban. How this campaign unified and invigorated the bicycle community was recounted by Mary Frances Dunham, a longtime cycling activist, in the July/August 1989 Bicycle USA, published by the League of American Wheelmen. Copyright © Bicycle USA, 1989. ..."
Schools: teaching Kids to Ride (Chapter 19, Bicycle Blueprint)
Chapter 19 by Mary Frances Dunham
Bicycle Blueprint, published by Transportation Alternatives, New York 1993
---
---
BIKE ACTIVISM - INDIA & BANGLADESH
Interview with Mary Frances Dunham about her Dahon folding bike
Delhi newspaper, Evening News, Nov 12, 1990
Missionary Biker; Riding against the tide in India
By Mary Frances Dunham
Printed in Bike Report, Oct/Nov 1992 Vol.18, No. 9
"My bicycle with its small wheels and foldable frame attracts attention wherever I use it, but never more than on a recent rip to some of South Asia's most car-infested cities.  People gathered to watch me fold my bike before taking it into shops and offices.  They would wait for my exit to see how the bike unfolds and ask how such small wheels could "work," where the bicycle was made and how much it cost. ..."
Two Wheels Against Three; A New York CIty Cyclist in Dhaka, Bangladesh, 1993-1994
By Mary Frances Dunham
Printed in Bicycle USA Vol. XXXI No.2 March/April 1995
" ...  Although I am a seasoned cyclist from the streets of NewYork, cycling in Dhaka's traffic during a recent stay there was decidedly a n6w adventure. ..."
Mary Frances Dunham - Bike activism in China (2006-2013)
---
---
BIKE ACTIVISM - CHINA (2006-2013)
American grandma, 78, bikes around, pushes pedal power in city
Letter to the editor by Mary Frances Dunham
Printed in Shanghai Daily, Feb. 11, 2010
Age does not weary cycling granny
Article by Nancy Zhang about Mary Frances Dunham
Printed in Shanghai Daily,  March 10, 2010
---
---
BIKE ACTIVISM - MISCELLANEOUS